Our research in this area is primarily focused on hybrid consensus solutions, implementation of innovative consensus protocols, as well as performance enhancement.
Cryptographic Security and Privacy Protection
Research in this area is primarily focused on privacy protection, zero-knowledge proof, and homomorphic encryption algorithms.
Privacy protection with account-based model must meet the following requirements:
· Related parties and authorized members can check the information in plaintext format.
· Non-related parties can only check encrypted information on the ledger.
· Consensus nodes can verify the legality of transactions based on encrypted information and perform corresponding operations on the account.
The zero-knowledge proof without setup is an improvement on the existing zk-SNARK scheme that requires setup.
Full homomorphic encryption is based on the homomorphic encryption algorithm, means any computation can be excuted before decryption just as in plaintext format.
Blockchain Technology Combined with Trusted Execution Environment
This research is about new blockchain architecture based on trusted hardware. The basic idea is to provide a universal high-performance solution for confidential protection and computational complexity issues utilizing trusted hardware.
A cross-chain protocol includes cross-chain data retrieval and asset exchange. Cross-chain data retrieval provides regulators with more powerful supervision capabilities in multi-chain scenarios, while cross-chain asset exchange refers to decentralized atomic exchange .
Smart Contract Syntax and Security Analysis
This research topic involves security scanning and analyzing on existing smart contract system, which can be implemented on our own blockchain platform. The target is to implement formal verification and security analysis on smart contract syntax and fundamentally solve security issues of smart contracts.
In this research, we study the benefits of combining blockchain and IoT technology to solve the problem of anchoring blockchain assets from the physical world to the digital world. With IoT technology, an asset's title, as defined by blockchain technology in the digital world, can be bridged to its physical entity.
Combining Blockchain Technology with Secure Multi-party Computation (SMC)
The goal is to create a computation and exchange platform based on personal privacy data to empower future digital services, which has already generated research output in the development of secure statistics and model training and prediction with privacy protection.
---
Products and Applications
The application of blockchain provenance collects all the relevant parties' records on a provenance trail and cross-references them on a distributed ledger. Block structure of the records forms a tamper-proof ledger. The unified traceability system also includes standards of blockchain technology platform, standards of participant integration interface, and assignment and adoption plans of product traceability ID code segments.

Our undertakings in this category represent Alibaba's attempt to create new insurance models for decentralized institutions. Blockchain technology was used to publicize the flow of all insurance funds and enhance trust between loosely-associated groups to better support the mutual insurance model. The shared trust between mutual-aid groups encourages individual initiative and reduces social risks by promoting the development of mutual insurance.

Our undertakings in this category represent Alibaba's first attempt at applying blockchain technology to real-life use cases. Blockchain was used to publicize the flow of fund donation and distribution to enhance donors' confidence, strengthen the impression of figurative donations, and improve the credibility of charity organizations, thus enabling charitable causes to develop in a sustainable direction.

In the second half of 2016, Ant Group, in collaboration with the China Red Cross Foundation and other non-profit organizations, launched a blockchain pilot project to enable donors to track the end-to-end flow of funds from donation to distribution.

In March 2017, all the charity donations via Alipay started using Ant Group's blockchain technology to achieve donation data transparency on the platform.

Moving forward, blockchain technology will be used to further explore projects in the domains of medical assistance, poverty alleviation, to achieve a public, transparent, and a traceable proces of end-to end fund flow.

The property leasing domain is an ideal use case to represent the combination of blockchain technology and economic and social governance in a municipality. The blockchain-based house leasing platform helps promote an open, fair, and just governance model.
---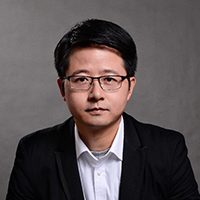 Gordon Zhang
Head of Blockchain Lab
He holds a Ph.D. in Computer Science from the University of Southern California, and served as department head at NEC Labs America, specializing in the research and product development of high-performance distributed systems and networks, with P2P network algorithms being his research topic. He is currently an IEEE senior member published more than 40 academic papers in well-cited international journals and conferences.
---
Publications and Presentations
Ying Yan, Changzheng Wei, Xuepeng Guo, Xuming Lu, Xiaofu Zheng, Qi Liu, Chenhui Zhou, Xuyang Song, Boran Zhao, Hui Zhang and Guofei Jiang.Confidentiality Support over Financial Grade Consortium Blockchain. SIGMOD,2020.
Haijun Wang, Xiaofei Xie, Yi Li, Cheng Wen, Yang Liu, Shengchao Qin, Hongxu Chen, and Yulei Sui. Typestate-Guided Fuzzer for Discovering Use-after-Free Vulnerabilities. ICSE 2020.
Xinying Yang, Yuan Zhang, Sheng Wang, Benquan Yu , Feifei Li, Yize Li, Wenyuan Yan. LedgerDB: A Centralized Ledger Database for Universal Audit and Verification. VLDB 2020.
Cheng Wen, Haijun Wang, Yuekang Li, Shengchao Qin, Yang Liu, Zhiwu Xu, Hongxu Chen, Xiaofei Xie, Geguang Pu, and Ting Liu. MemLock: Memory Usage Guided Fuzzing. ICSE 2020.
Hongxu Chen, Shengjian Guo, Yinxing Xue, Yuelei Sui, Cen Zhang, Yuekang Li, Haijun Wang and Yang Liu. MUZZ: Thread-aware Grey-box Fuzzing for Effective Bug Hunting in Multithreaded Programs. USENIX Security Symposium 2020.
Shengjiao Cao, Yuan Yuan, Angelo De Caro, Karthik Nandakumar, Kaoutar Elkhiyaoui, and Yanyan Hu.Decentralized Privacy-Preserving Netting Protocol on Blockchain for Payment Systems. Financial Cryptography and Data Security 2020.
Guo Shengjian, Yueqi Chen, Peng Li, Yueqiang Cheng, Huibo Wang, Meng Wu, and Zhiqiang Zuo. SpecuSym: Speculative Symbolic Execution for Cache Timing Leak Detection. ICSE 2020.
Yanchao Zhu, Zhao Zhang, Cheqing Jin, Aoying Zhou, and Ying Yan. SEBDB: Semantics Empowered BlockChain DataBase. ICDE 2019.
Wenbin Zhang, Yuan Yuan, Yanyan Hu, Shaohua Huang, Shengjiao Cao, Anuj Chopra, and Sheng Huang. A Privacy-Preserving Voting Protocol on Blockchain.CLOUD 2018.
Atsushi Koshiba, Ying Yan, Zhongxin Guo, Mitaro Namiki, and Lidong Zhou.TEE-KV: Secure Immutable Key-Value Store for Trusted Execution Environments. SoCC 2018.
Competition
In 2018, the lab was rewarded the Big Data Expo's Influential Enterprise Award.
In May 2018, the Blockchain-based Smart Lease Management System was shortlisted as one of the construction technologies for Xiong'an New District certified by the Department of Science and Technology of Hebei Province.